So there is a way to make traditional advertising more appealing to everyone, pull at the thing that drives quite a few of our daily decisions – our stomach!
We all love food, we think about it from the moment we wake up to the time we go to bed, some see it as food, some see it as fuel, either way we need it and we plan our daily routines around it! To be honest, some of us out there actually post pictures of what we are eating on instagram – yes I know!
So check out the below 10 examples of how food and billboards can form a creative relationship, a little imagination, a lot of free foods & drinks you can really get your brand out there (oh yeah, and a big budget!).
1) Virgin Media Cheese Billboard
Who doesn't love a good Cheese Board – we maybe this one is the answer
For those of us lucky to be around in 2010, Virgin Media (with the help of artist Prudence Staite) managed to pull off the best cheese (bill)board you would have ever seen, Speedy Gonzales would have struggled to carry of this piece of cheese. Weighing in at just under 250 pounds, you'd need a hell of a lot of grapes to compliment this platter!
Image Credit: Virgin Media
The whole board was made of just cheese and it took its creator and her team eight days to create, final stage was a mammoth chilling time of 100 hours before if could be unveiled.
"I have been asked to craft many a strange thing in my time, but a cheese billboard certainly takes the biscuit, or should I say cracker," joked Staite.
2) Mr. Kipling's Cake Billboard
I love a bit of cake, cake cake, I love a bit of cake! Well the line from Mr. Kipling was "Let them eat cake," when it decided to create a massive billboard made of it's best cakes and sweet things – by the looks of things this is one billboard I would have love to have seen (or is that tasted).
Image Credit: The Drum
It took, artist Michelle Wibowo over 7 hours to create by carefully placing over 13,360 cakes to create this cake lovers dream. The strap line on the masterpiece was "Life is better with cake", and you can clearly see by the picture life would be better if you were around when this was being made, especially if you had a sweet tooth!
What goes up must come down. Instead of the contents being thrown in the bin the whole board was taken down piece by piece, cake by cake and handed out to passers by at the Westfield shopping centre in London – where was I that day!
What a great way to get people interacting with your brand, literally!
3) KOO's Canned Food Billboard
World Food day 2013 Owen Kessel and Levergy joined forces to help KOO (South Africa's No. 1 food brand) celebrate this great day by creating the country's first edible billboard.
Image Credit: Levergy
KOO's commitment to giving back on this special day inspired the team to create a billboard made entirely of canned food. How do you make a billboard that gives back, well you make it entirely out of food that you can give away, in fact 2,104 cans of food to be exact. Once the billboard was revealed its contents were handed out to members of the public watching the spectacle unfold
Once the cans were gone the billboard revealed a hidden message: "KOO, helping to feed a nation." What better on such a good day, such a good cause.
"In a country where 12 million people go to bed hungry every single night, it's beautiful thing for us in advertising to be part of an initiative that helps those people," said Nicole Glickman, who worked on the campaign.
To be inspired and to see there are those that give back, check out the following video:
https://www.youtube.com/watch?v=m3tog0iHk0w
4) When the heat rises, McDonald's McFlurry Billboard is the answer
Netherlands, July 2015, McDonalds created a genius of an idea that had heat right controlling the outcome! The heat-activated billboard housing 100 empty McFlurry cups would open up if, and only if, the temperature reached more than 101 degrees Fahrenheit. Now I'm not sure if we'd ever get this to happen especially in the UK but hey, what a great way to wish for more sun!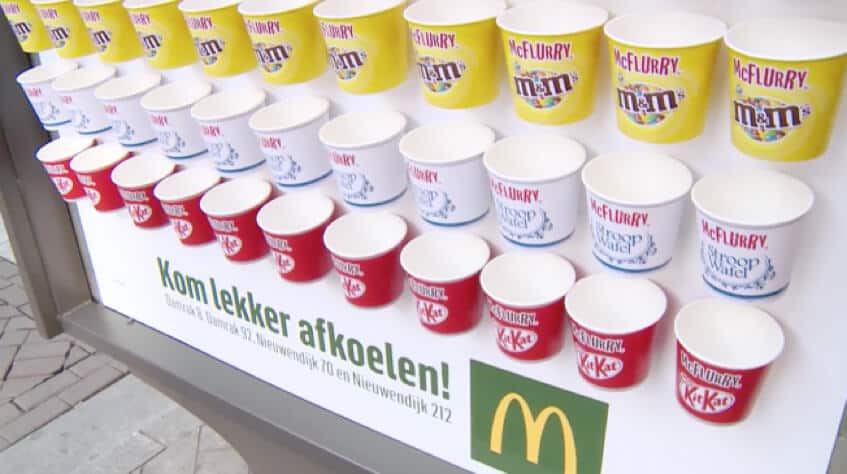 Image Credit: AdWeek
It was said that hundreds of people waited, watching the temperature rise waiting in anticipation for the glass screen to rise so they could grab themselves an empty cup and redeem it at their nearest McDonalds. What a great idea to associate your product with an event, in this case heat rising – maybe you should think about how you can work this kind of idea into your next advertising campaign, remember ideas are free so look around you, you never know where one might just pop up!
Check out the video below to watch the flurry unfold:
5) Drinkable Billboards – No problem, Coke Zero has the answer
So what goes into making a drinkable billboard, well check this out: 75 valves, four high-pressure pumps, 16 sensors, and a whole lot of Coke Zero. That's what made up the 23,000-pound billboard found in White River State Park in Indianapolis USA during the NCAA Men's Final Four competition.
This huge structure functioned as a "drinkable billboard," it even sported an enormous straw working its way from the top of the bottle down to a public drinking fountain. Cleverly the straw on its way down to the fountain shaped itself into the words, 'Taste it', which if you were the one at the front of the queue then you would be.
Image Credit: AdWeek
Not only did Coke create a fantastic billboard idea it tied the advertisement back to a basketball ball game by stating that the compressed air used to power the billboard was enough to fill all the balls needed during a tournament, clever old Coke, a little imagination ca go a long way and bottle of Coke Zero that big can go even further
6) A Giant Edible Billboard Made Out Of Nakd Bars… For real!

Image credit Welltodo
Snacking, we all love it but the guys and girls at Nakd love it more than we do, so much so they built and amazing billboard to show us how much they love snacking.
Their healthy snack brands were cleverly put together to create a giant edible billboard on the Southern Terrace of Westfield Shopping Centre. The advert was made up of some 16 different flavours of snacks, all of which you could take for free, all you had to do was 'Find your Fave' – which is harder than you think if you've ever tried these snacks
The addictive treats, which are made from natural ingredients, might be wheat, dairy and sugar free, but when it comes to innovative flavours they've got it covered.
From fruit salad and strawberries and cream nibbles to bakewell tart and apple crunch bars you can discover your favourite flavour, unfortunately the campaign has ended but you can still head down to your local shop to find your fave – you will just have to pay this time!
Watch the video to see more: http://fandbnews.com/nakd-erects-an-edible-advert-to-get-consumers-trying-its-goodies/
7) Carlsberg's Beer Billboard
"Probably the best poster in the world," read the eye-catching green sign outside the Truman Brewery in London's Brick Lane this past April.
So what was so eye catching about this big green billboard, the colour, the shape, the brand name??
Sorry none of the above, it might have been the fact that it came with its very own beer tap, yes beer tap!
Image Credit: The Independent
If you happened to be lucky enough and of the right age (this billboard came with bouncers) then you could enjoy and ice cold Carlsberg straight from the billboard itself, now who wouldn't want one of these on their local high street, it probably was the best poster in the world!
8) Lettuce Billboard, Yes it's McDonalds again
We all know McDonald's has had some bad press in it's time but this billboard tried to right a few wrongs. In an attempt to grow it's customer base McDonald's thought it would grow a billboard, well a part of it that is.
In an effort to turn the heads of doubters and promote its use of fresh ingredients used in it's salads, wraps etc… they decided to plant thousands of heads of lettuce onto the board, sit back and wait for nature to do its job.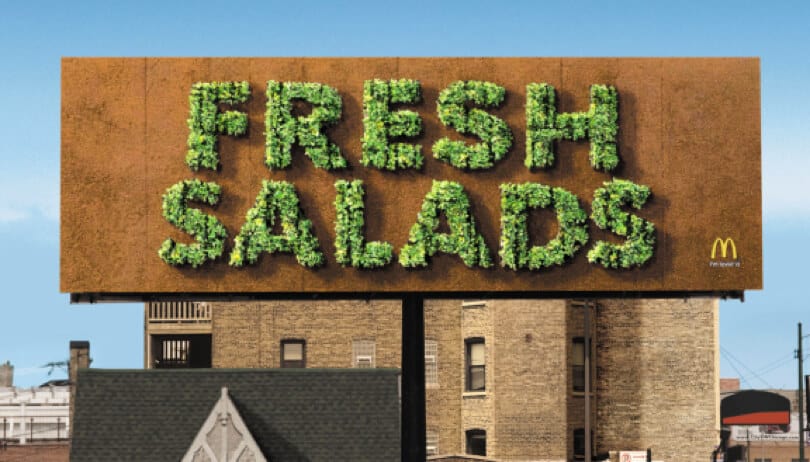 Image Credit: This is not ADVERTISING
So when the sun shone, the water dropped and time passed the heads grew and revealed a message that was hard to miss "Fresh Salads." It was exactly what it said it was; you don't get much fresher than that!
According to McDonald's Cannes Lions International Advertising Festival entry, more than 500,000 salads were sold during the campaign period, deeming it an overall success.
9) Chocolate Billboard – turns not only heads for Thornton's
Thornton's wasn't having the best of times back in 2007, they reported a difficult start to the year due to poor sales and lack of interest in their brand, so to turn things around they invested in chocolate, 860lb to be precise on a billboard that measured 14.5ft x 9.5ft. It was made up of edible chocolate bunnies, 72 chocolate eggs and 128 chocolate panels – a wall of chocolate.
Image Credit: PopSugar
A world first, Thornton's' billboard was a bold and adventurous move that could have cost them dear but it worked, sales were reported to be up after the campaign and the CEO Mike Davies said the billboard was a "well-worthwhile investment.
The only lost was the space booked by Thornton's, apparently they booked 2 weeks but it took a mere 4 hours for the billboard to be devoured by passers by, well what did they expect when open the gates to the chocolate factory!
10) The Fairtrade Foundation's Banana Billboard
Hats off the banana farmer Foncho Cantillo and The Fairtrade Foundation in their efforts to raise awareness for banana farmers living in poverty. The pair worked side by side to create a billboard made entirely out of, well do I need to say anymore…well take a look at the picture and I think you'll get it…
Image Credit: London24
11 hours later and over 5,000 bananas the The South London changed over night, a billboard to be proud of, a raised fist holding a banana, what a powerful statement and what a partnership.
There was not point at the end of this campaign wasting all those lovely banana, that would upset several people and a know a few particular cheeky monkeys – well to keep everyone happy the bananas were donated to local food banks and a very happy group at Battersea Park Children's Zoo.
Apparently the monkeys have requested the campaign runs again next year!