There's no doubt that out-of-home (OOH) advertising spend is bouncing back from its Covid-19 dip in the UK, growing incrementally to £901 million through 2021.
While this remains below the peak of £1.3 billion spent in 2019, further growth of 31.5% is forecast for 2022, ensuring that normal service will have been resumed by the end of this year.
This is being driven by both classic and digital billboards, which saw year-on-year revenue increases of 339% and 247% respectively in Q2 of 2021.
Both options also offer relatively affordable and accessible advertising mediums, which can be effectively combined as part of integrated campaigns.
We'll explore both classic and digital billboards pricing and options below while exploring more of the insights behind advertising. Let's get into it!
How much does Billboard Advertising cost?
The typical cost for a billboard varies widely depending on factors such as location, size, and duration. Prices for traditional billboards typically range from £200 to £2,000 per week, while digital billboards on average will cost £1,000 per week. Digital billboards are more expensive due to their versatility, size and visual impact.
However, at 75Media, the daily price of a digital billboard can be as low as £16 a day while our classic billboards can cost just £22 per day (plus VAT). Individual factors such as size, location, duration, frequency of bookings, artwork, production and design costs, and the choice of supplier can all affect the total price of billboard advertising.
We have listed each factor below with more information on what to consider when renting your next billboard.
Billboard size
Let's start with the size of your billboard, which has a direct impact on the price that you will eventually pay.
Much of this has to with production costs, although as a general rule you will have two comparative options available to you when erecting a classic billboard. These include:
48-Sheet Billboards
Known colloquially as a standard classic billboard, a 48-sheet advert is approximately 3m x 6m in terms of its dimensions.
This type of billboard can be created in three different materials (paper, durable plastic Correx and vinyl materials), each of which will have an impact on the potential production cost.
At 75Media, leasing a 48-sheet billboard over a standard four-week period will cost you £30 per day (+VAT) and by extending your booking to a 24 week campaign, the cost-per-week reduces to £25 per day.

96-Sheet Billboards
As you would expect, 96-sheet billboards are larger and cover a total area of 3m x 12m. They are also priced accordingly, with a typical 96 sheet campaign coming in at approximately £500 per week.
Typically, you'll only ever see 96-sheet billboards in landscape mode, while they're most commonly found at busy roadside junctions (especially those that flank popular commuter routes).
Here at 75Media, the cost of classic advertising on this type of billboard starts from £22 per day, with this competitive pricing available over the course of extended, annual campaigns.
96-sheet billboards are also available in paper, plastic Correx and vinyl materials, depending on your precise creative and desired aesthetic.
What About Digital Billboard Formats?
OK, we hear you ask, but what about digital billboard pricing and sizes? In this instance, you'll have three sizing options, and we've outlined these in a little more detail below:
Digital 48-Sheet Billboards
Interestingly, digital 48-sheet billboards offer a more cost-effective option over the course of longer bookings at 75Media, especially if you commit to 26 and 52-week campaigns.
For example, while 24 and 52-week classic campaigns will cost from £25 and £22 per day respectively, these figures fall to £18 and £16 per day when booking digital alternatives.
Digital 96-Sheet Billboards
96-sheet digital billboards tend to be presented in landscape mode more often than not.
Once again, pricing for this format will vary depending on the length of your booking. Prices start from £42 per day for a four-week campaign, for example, while this falls to £38 per day over the course of a 13-week booking.
You can also access a growing number of digital locations through 75Media, creating more flexibility and range for advertisers.
Digital Mega 6 Billboards
At 75Media, we're also offering so-called "Mega 6" billboards. These are essentially huge roadside portrait boards, which are commonly deployed on key town or city aerial routes.
You may also find them located above major shopping centre car parks, where they have a captive audience and brands can enjoy excellent and sustained exposure.
Typically, their dimensions are 7.5m x 5m, creating a striking and larger-than-life format that's ideal for capturing the attention of drivers and passengers alike.
Mega 6 billboards can comprise a relatively large number of LED panels, with this variable also impacting on your final booking and production costs.
The Location of your Billboard
Whether you book a classic or digital billboard display, another key factor is the location of your billboard.
After all, this has a direct impact on the level of footfall it benefits from and the number of impressions that it generates.
Footfall refers to the amount of pedestrian or vehicle traffic that passes a particular site, whereas impressions relate to the number of times that potential customers are likely to see your advert.
To understand how these impact directly on cost, let's take a look at two examples.
London's Piccadilly Circus and its famous billboards are passed by an estimated two million people each week, which is why a classic, 96-sheet billboard in this location can cost in excess of £727 per week (+ VAT).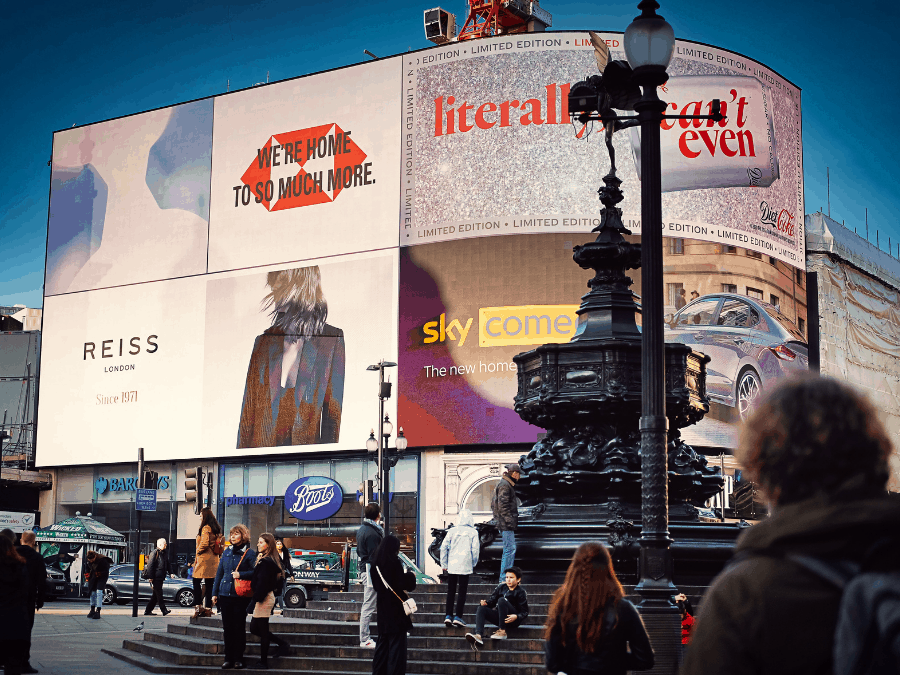 A similar price is applied to Cricklewood Lane in the capital, which, thanks to congestion, is known as being the slowest-moving road in the UK.
This provides drivers with a far greater opportunity to observe your advert and engage with its message, making it an exceptionally effective but relatively expensive marketing location.
Even a classic 48-sheet advert in this location will cost around £271 per week, with VAT taking this price north of £300.
These two factors, along with the typical cost of living in various geographical regions, have a significant impact on the cost of billboard advertising.
At 75Media, our pricing structure has no differentiation based on location, as we operate a simple, transparent and daily pricing policy across both classic and digital formats.
This represents a huge advantage, as it allows you to effectively target core demographics and customer segments without being restricted by budgetary constraints.
The Billboard Rental Period
As with most industries, billboard advertising is driven by demand, and this means that the weekly cost of securing space can be reduced by increasing the rental period.
We have already touched on how 75Media offers a sliding pricing scale that relates directly to the length of the booking, and this can translate into significant weekly savings when you choose to rent classic or digital ad space for the year.
At 75Media, booking periods range from four weeks right up to 52 weeks.
So, you'll have the opportunity to tailor your OOH campaign according to your precise objectives and financial budget, while accessing both classic and digital locations nationwide.
The Frequency of Bookings
Of course, there is some onus on you as the customer to reduce costs by using the longevity of your deal to negotiate a better price.
The same principle applies if you're a regular or returning customers: you should leverage your loyalty to negotiate improved deals, particularly if you purchase space on a regular and predictable basis.
Artwork, Production and Installation
When appraising the cost of billboard advertising, it is crucial that you determine what providers are offering as part of their costed service.
While it is important to ascertain whether or not prices are inclusive of VAT, you should also check to see if factors such as artwork, production and installation are included.
With most operators, a separate charge is applied for the production and installation of a classic billboard: at 75Media, this is a standard cost of £175 per 48 sheet campaign.
75Media also works with a graphic designer who can provide billboard artwork design services starting at around £150.
This initial production fee also covers any reprints required due to damage during a six-week period after installation, which is recommended lifetime for any classic billboard.
To the best of our knowledge, this guarantee is not offered by other UK suppliers in the current marketplace.
While you don't commonly associate the same production costs with digital billboard creation, you may still have to pay for the development of artwork and similar creative elements if you don't handle this in-house.
Remember, production and installation costs, and what is included, varies between suppliers, so be sure to check with each brand and make accurate calculations relating to the total cost before making an informed decision.
The Choice of Supplier
As we have already seen, your choice of supplier has a considerable impact on the cost of your billboard advertising.
This is why it is impossible to get the best deal for your own unique circumstances without first obtaining quotes from rival companies, and determining precisely what value you are able to get for your money.
At 75Media, we are confident our network offers the best value in the UK, both in terms of its competitive pricing and the decision not to vary costs depending on the customer's choice of location.
This is particularly appealing to brands that want to advertise in locations with high levels of traffic and footfall, as they are able to optimise their reach without spending outside of their means or compromising the return on their marketing investment.
How Long Should You Rent a Billboard For?
As a general rule, you should align your campaign with your core marketing objectives, particularly in terms of your existing budget and the reasons why you are trying to engage customers (whether you are looking to market a new product, sell goods or simply raise brand awareness).
The minimum, four-week campaign available through 75Media can be effective when marketing time-specific promotions, for example, whereas six-month or annual agreements are more suited to improving brand awareness levels and recall over time.
Overall, however, longer campaigns tend to be more effective and deliver higher levels of engagement.
It is widely estimated that customers who are exposed to classic billboards and out-of-the-home (OOH) advertising are 17% more likely to engage with brands, so repeat exposure of your company and its core messaging will have a significant influence on consumer decision-making over time.
Remember, the weekly cost of renting a classic billboard will usually fall when you enter into a longer agreement with billboard advertising operators.
This is another reason why so many companies choose to book longer campaigns, although it is important to maintain a clear mind that is focused on your individual objectives when making a final decision.
Are There Other Pricing Factors to Consider?
When you enter into an agreement with your chosen provider, you are relying on the advertising real estate that they possess and their expertise relating to installation.
As we've already touched on, you may even be paying for the design of your classic or digital billboard and its presentation, although this is one of the elements that you may be able to handle in-house if you have a skilled marketing or creative team.
The design of your advert is certainly an important consideration, particularly if you are looking to build brand awareness and create a consistent, visual identity.
In this respect, you may even decide to use or hire an in-house designer with experience in creating billboard advertisements, with the cost of this ranging between £150 and £800 in total.
Much will depend on the nature of your ad and the need to create content for classic or digital billboards, as the latter may require particular expertise that has to be brought in.
Leveraging Classic and Digital Billboards – The Benefits of OOH
Of course, there are various differences between classic and digital billboards, but many of these are complimentary and can be combined in an integrated marketing campaign.
Before we delve into this, however, let's take a look at the more general advantages offered by OOH in the digital age:
OOH Reaches High Numbers of People and Builds Awareness
It's thought that the average customer of working age spends 70% of their time away from the home, creating huge opportunities in terms of building awareness and driving brand recognition.
You can also optimise impressions and effectively target different demographics through OOH, with some 71% of consumers regularly looking at the messaging featured on roadside billboards.
OOH Media is Engaging
In addition to reaching potentially huge audiences, OOH is considered to be an incredibly engaging advertising medium.
To this end, around 26% of customers have admitted to visiting a branded website in direct response to an OOH ad, while the medium is considered to be non-intrusive and capable of providing the perfect antidote to the surfeit of generic and overly promotional ads that we receive online.
OOH Media Can Drive Assisted Conversions Online
The saturation of online ad space has seen a huge increase in the use of ad blockers, which surged by 30% in 2016 and has ticked higher among Millennials since.
However, the ability of billboards to meld naturally with their surroundings makes them more effective drivers of online traffic and assisted conversions, while customers are also 17% more likely to engage with brands through their mobile after engaging with a billboard.
Make no mistake; OOH media is always 'on', and cannot be switched off or blocked by your target audience!
What Do Classic and Digital Billboards Offer?
These universal advantages of outdoor advertising apply to both classic and digital billboards, making them both potentially central and seminal components of a much broader integrated marketing campaign.
Still, it's important to explore the differences that exist between the two ad types, so that you can develop a viable advertising strategy and optimise the impact of individual ads. For example:
Accessing Digital Billboards is Slightly Easier in Prime Locations
Billboards account for 66% of all OOH media, while digital out-of-home (DOOH) ads have grown to claim a much larger share of this market in recent years.
In the UK, DOOH ad revenue accounted for 64% of the market's cumulative total in 2021, as the number of locations featuring digital displays increased exponentially nationwide.
So, while it's still possible to secure both classic and digital displays in prime locations, the latter are now more likely to be found in the highest demand areas with the most traffic or footfall.
Classic Billboards Are Slightly Cheaper
As we've already touched on, both classic and digital billboards are relatively affordable when compared with alternative offline channels like TV, radio or print.
However, it's fair to say that classic billboards are typically cheaper over the course of four or 12-week campaigns, potentially enabling smaller and medium-sized firms to target a slightly larger range of locations as part of their campaigns.
From a strategic perspective, your business may well look to deploy a select number of DOOH ads in prime locations, while expanding the campaign in a targeted manner by erecting classic billboards elsewhere.
Over the course of 26 and 52-week campaigns, 75Media actually offer highly competitive digital display pricing of £18 and £16 per day respectively. We'll discuss this further below, but such affordable prices can have a highly positive impact on your campaign and marketing ROI.
Balancing Creativity and Exposure
Another unique feature of DOOH ads is their scope to foster greater levels of creativity and interaction. This is because they offer elements such as animation and lighting which can be used to create different experiential elements and engage target customers on a much deeper level.
In this superb digital billboard created by British Airways, for example, a little boy stands up, walks across the display and points to the sky every time a plane flies overhead.
This commands the attention of passers-by and is followed by a promotional message from BA, driving optimal levels of engagement and awareness throughout.
This is also important given the format of DOOH displays, which typically rotate between six different ads during each 60-second period. More specifically, your brand can use more inventive and interactive content to stand out against the backdrop of competing ads, making the most of your booked time to have a clear impact in the minds of customers.
On the tip side, classic OOH ads offer exclusivity to advertisers and will promote your sponsored messaging and creative 24/7 for the duration of the booking.
So, while such ads tend to be a little more two-dimensional and less experientially creative, they do help to optimise brand exposure in relation to your marketing spend.
The good news is that these stand-alone differences are clearly-defined, while they offer you flexibility depending on the precise content of individual ads and the underlying objective behind your campaigns.
The Bottom Line
We hope that you have found this article useful, as you look to effectively manage your marketing budget, reach more consumers and achieve a superior ROI in relation to your spend.
There is no doubt that both classic and digital billboard advertising has empowered small businesses in recent times, by affording them access to an increasingly cost-effective marketing channel that optimises their reach across numerous customer segments.
The rapid and exponential growth of classic and digital billboards has also positioned OOH as one of the best mediums for small and medium-sized businesses, particularly those with relatively restricted budgets and a desire to create truly integrated and effective campaigns.