The cost of UK billboard advertising is often perceived to be an expensive medium to invest in, and only available to brands with large advertising budgets. However, this is a common myth that can actively diminish the marketing potential of your brand.
In fact, classic billboards are now more accessible, cost-effective and profitable than ever before, as comprehensive packages can cost as little as £20 per day + VAT.
With this in mind, we have compiled a full billboard advertising price guide for your attention, as you look to tailor an effective marketing campaign that delivers an optimal ROI.
Exposing the Myth: The Difference Between Digital and Classic Billboards
When it comes to understanding the true cost of billboard advertising, it is important to distinguish between digital and paper advertisements. After all, while we have seen a significant rise in digital billboard advertising in recent times, this technique can be particularly costly and largely inaccessible to the vast majority of small businesses.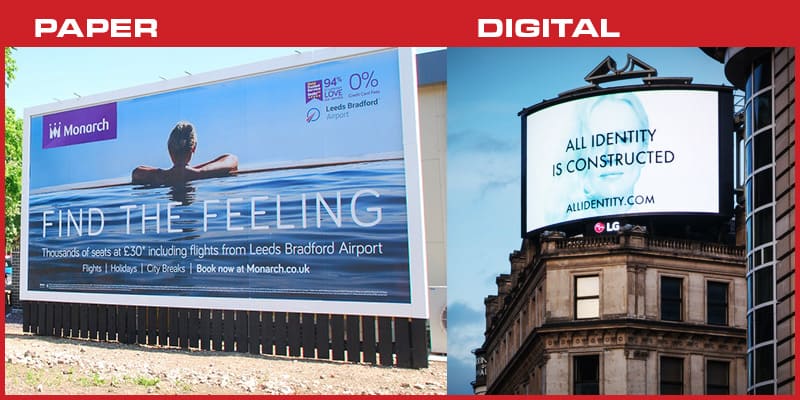 Not only are traditional billboards more affordable, but they also offer advantages that increase your potential ROI.
Here are some examples to keep in mind.
Traditional Billboards Offer Exclusive Slots – When securing a digital billboard, you will usually be required to share the advertising space with up to five other brands. This means that you may only get 10 seconds of air time each minute, which makes it difficult for customers to engage with your message. In contrast, classic billboards can be secured exclusively and over a period of months in some instances.
Traditional Billboards Are Less Competitive – On a similar note, the rush to digital has diminished the level of competition that exists for traditional billboard advertising. This means that it is now easier and more affordable to place adverts in prominent and high-traffic locations, increasing the reach of your brands' message in the process.
Traditional Billboards Are More Energy Efficient – This may seem like an unusual claim, particularly given the fact that print billboards are created using paper. This material can be recycled, whereas digital billboards require a huge amount of energy to run over a period of days. So, if your brand has a social conscious, traditional billboards may be far more viable in keeping with its values.
How much does Billboard Advertising cost?
Advertising on a billboard in the UK can cost as little as £20 per day + VAT. With that in mind, it's important to determine the individual factors that actively influence the cost of renting a billboard, including the size of the billboard, location, rental period, frequency of bookings, artwork, production and design costs, and the choice of supplier.
We have listed each factor below with more information on what to consider when renting your next billboard.
Billboard size
Let's start with the size of your billboard, which has a direct impact on the price that you will eventually pay. Much of this has to with production costs, although as a general rule you will have two comparative options available to you.
48 Sheet Billboards
Known colloquially as a standard billboard, a 48-sheet advert is approximately 3m x 6m in terms of its dimensions.
48 sheet billboards can cost between £160 to £250.00 per week (plus production) for a standard two-week booking. The total cost of your booking depends on your choice supplier as there are more affordable (and more expensive) options on the market as highlighted in the comparable table below, carried out by our market research. It's important to note that this is the base two-week booking price, as booking for longer periods of time can result in discounts. For example, 75media offer a 48-sheet billboard over a four week period at a price of £160 per week plus production, and this falls to £100 per week plus production when committing to a longer-term 52-week contract.
48 Sheet Billboards Pricing Comparison – (Two-Week Booking) Pricing Exclusive of VAT
| | Rental Cost | Production | Total |
| --- | --- | --- | --- |
| 75media | £320 | £175 | £495 |
| Clear Channel | £475 | £159 | £634 |
| Primesight | £400 | £127.97 | £521.97 |
| Jcdecaux | £500 | £195 | £695 |
96 Sheet Billboards
As you would expect, 96-sheet billboards are larger and cover a total area of 3m x 12m. They are also priced accordingly, with a typical advert costing upwards of £500 per week on average.
That said, there more cost-effective options available from certain suppliers. A 52-week booking from 75media can secure costs as little as £180 per week plus a £275 production fee which covers printing, carriage, billposting and any required reprints due to damage within the first 6 weeks after posting, which is considerably greater value than some supplier's 48-page price plans.
Here is a comparable pricing chart on standard 96 sheet classic billboards for a booking period of two weeks. Again, carried out by our market research team on Clear Channel and Primesight pricing in comparison with 75media.
96 Sheet Billboards Pricing Comparison – (Two-Week Booking) Pricing Exclusive of VAT
| | Rental Cost | Production | Total |
| --- | --- | --- | --- |
| 75media | £600 | £275 | £875 |
| Clear Channel | £975 | £264 | £1,239 |
| Primesight | £800 | £193.48 | £993.48 |
| Jcdecaux | £1000 | £323 | £1,323 |
By way of a comparison, a standard digital billboard placement can cost you a whopping £1,250 per week. This varies in relation to some of the factors that we will discuss below, although you will also have to consider the reduced exposure that you achieve through this medium and the ultimate value for money that it delivers.
Location of your billboard
Another key factor is the location of your billboard, as this has a direct impact on the level of footfall it benefits from and the number of impressions that it generates. Footfall refers to the amount of pedestrian or vehicle traffic that passes a particular site, whereas impressions relate to the number of times that potential customers are likely to see your advert.
To understand how these impact directly on cost, let's take a look at two examples. London's Piccadilly Circus and its famous billboards are passed by an estimated two million people each week, which is why a large, 96-sheet billboard in this location can cost in excess of £727 per week (plus VAT).
A similar price is applied to Cricklewood Lane in the capital, which thanks to congestion is known as being as the slowest moving road in the UK. This provides drivers with a far greater opportunity to observe your advert and engage with its message, making it an exceptionally effective but relatively expensive marketing location. Even a 48-sheet advert in this location will cost around £271 per week, with VAT taking this price north of £300.
These two factors, along with the typical cost of living in various geographical regions, have a significant impact on the cost of billboard advertising. At 75media, our pricing structure has no differentiation based on location, as we operate a simple and transparent pricing policy across the board. This represents a huge advantage, as it allows you to effectively target core demographics and customer segments without being restricted by budgetary constraints.
Billboard Rental Period
As with most industries, billboard advertising is driven by demand and this means that the weekly cost of securing space can be reduced by increasing the rental period. We have already touched on how 75media offers a sliding pricing scale that relates directly to the length of the booking, and this can translate into weekly savings of £120 when customers rent space for the year (for a 96-sheet advert).
While a number of other suppliers follow a similar model, the average cost difference between a two week booking and an annual agreement is around £58 exclusive of VAT. So although the weekly cost of securing billboards should always fall over longer booking periods, it is important to shop around and secure the best possible deal.
The Frequency of Bookings
Of course, there is some onus on customers to reduce costs by using the longevity of their deal to negotiate a better price. The same principle applies to regular and returning customers, who tend to use the same service provider to print and host their billboard adverts. Make no mistake; returning customers should leverage their loyalty to negotiate improved deals, particularly if they purchase space on a regular and predictable basis.
Artwork, Production and Installation
When appraising the cost of billboard advertising, it is crucial that you determine what providers are offering as part of their costed service. While it is important to ascertain whether or not prices are inclusive of VAT, you should also check to see if factors such as artwork, production and installation are included.
With most suppliers, a separate charge is applied for production, printing and installation. 75media operates on a standard cost of £175 per campaign which covers production and installation, whilst there is an optional design service at a cost of £150. As previously mentioned, at 75media, this initial production fee also covers any reprints required due to damage during a six-week period after installation, which is recommended lifetime for any traditional billboard or poster. To the best of our knowledge, this guarantee is not offered by other UK suppliers.
Remember, the cost and what is included within varies between suppliers, so be sure to check with each brand and make accurate calculations relating to the total cost before making an informed decision.
The Choice of Supplier
As we have already seen, your choice of supplier has a considerable impact on the cost of billboard advertising. This is why it is impossible to get the best deal for your own unique circumstances without first obtaining quotes from rival companies, and determining precisely what value you are able to get for your money.
At 75media, we are confident our network offers the best value in the UK, both in terms of its competitive pricing and the decision not to vary costs depending on the customer's choice of location. This is particularly appealing to brands that want to advertise in locations with high levels of traffic and footfall, as they are able to optimise their reach without spending outside of their means.
How Long Should You Rent a Billboard For?
As a general rule, you should align your campaign with your marketing objectives, particularly in terms of your existing budget and the reasons why you are trying to engage customers (whether you are looking to market a new product, sell goods or simply raise brand awareness). A two-week campaign can be effective when marketing limited time only promotions, whereas six-monthly or annual agreements are more suited to improving brand awareness levels.
However, longer campaigns tend to be more effective and deliver higher levels of engagement. It is widely estimated that customers who are exposed to traditional billboards and out-of-the-home (OOH) advertising are 17% more likely to engage with brands, so repeat exposure to your company and its core messaging will have a significant influence over consumer decisions over time.
Remember, the weekly cost of renting a traditional billboard will usually fall when you enter into a longer agreement with advertising brands. This is another reason why so many companies choose to book longer campaigns, although it is important to maintain a clear mind that is focused on your individual objectives when making a final decision.
Other Pricing Factors to Consider
When you enter into an agreement with your chosen provider, you are relying on the advertising real estate that they possess and their expertise relating to printing and installation. In some instances, you may even be paying for the design of your billboard and its presentation, although this is one of the elements that you may be able to handle in-house.
The design of your advert is also an important consideration, particularly if you are looking to build brand awareness and create a consistent, visual identity. In this respect, you may decide to use or hire an in-house designer with experience in creating billboard advertisements, with the cost of this ranging between £150 and £800 in total.
The Bottom Line
We hope that you have found this article useful, as you look to effectively manage your marketing budget, reach more consumers and achieve a superior ROI for your brand.
There is no doubt that traditional billboard advertising and brands such as 75media have empowered small businesses, by affording them access to a cost-effective marketing channel that optimises their reach across numerous customer segments.
Traditional billboards have also destroyed the myth that this outdoor advertising is either irrelevant or too expensive, even in an age where digital media continues to dominate the consumer conscience.