While the concepts of 'push marketing' and 'pull marketing' may sound like an advertising pitch for the Chuckle Brothers, these two entities are often key components of effective and integrated campaigns.
While these two diametrically opposed techniques should ideally be combined to optimise your brand's exposure, however, it has been suggested that up to 71% of customers prefer pull marketing tactics such as social media content, user reviews and recommendations.
But what are the best examples of pull marketing, and how can you utilise this as part of your out-of-home (OOH) media campaigns? Let's get into it!
What are the Best Examples of Pull Marketing?
When defining pull marketing and its best examples, it's important to work in direct comparisons with alternative 'push' techniques.
While push marketing is concerned with thrusting specific products and services to a clearly defined target audience, for example, pull marketing techniques are focused on drawing customers to your individual offerings and creating demand.
In this respect, pull marketing can be used to achieve different objectives to push marketing strategies.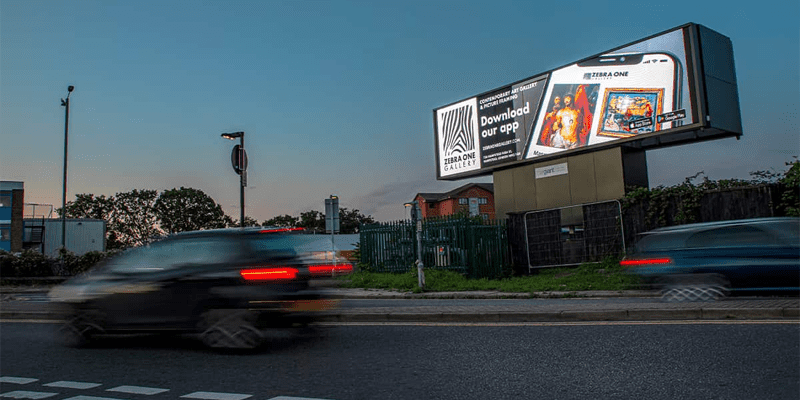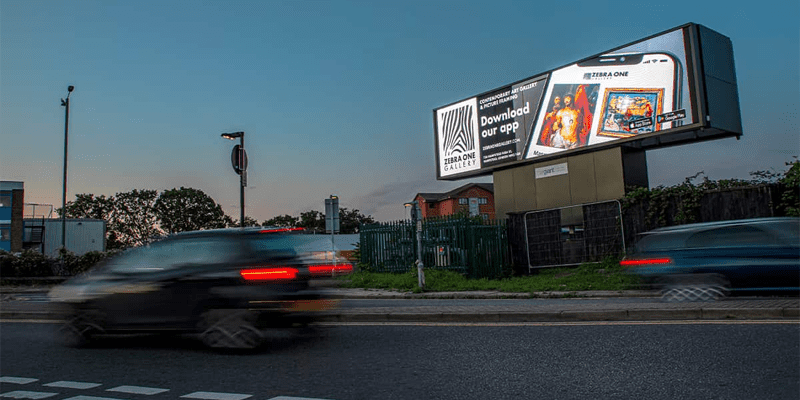 More specifically, push marketing channels such as television can be leveraged to build awareness of a particular brand, product or service, whereas pull marketing can help to increase demand and drive sales through a number of designated channels.
On a similar note, push marketing is an excellent tactic when attempting to introduce or brand or product range to new demographics.
Conversely, pull marketing strategies are better deployed when attempting to target existing audiences with a particularly product or service, especially as you can build on existing data to achieve this objective.
As you can probably tell, push and pull marketing techniques (and channels) tend to be used at different stages or a company's growth, while they can also be combined as part of integrated advertising campaigns.
Perhaps the best pull marketing channel in the digital age is social media, particularly high-traffic and influential mediums like Facebook, Twitter and Instagram.
There are numerous reasons for aside, from the fact that such channels offer you immediate access to the mass marketplace and almost infinite amounts of unstructured and real-time datasets.
Additionally, social media allows for the use of hashtags to help drive exclusive promotions and market individual products, as you look to simultaneously create a significant buzz around your offerings and generate tangible customer leads.
Ultimately, hashtags also make it considerably easier for target customers to find your products and content in relation to focused keywords, potentially driving traffic to other digital channels (such as a website) in most instances.
Search engine optimisation (SEO) is another highly effective pull marketing strategy, albeit one that takes a little longer to deliver results.
Through a combination of technical and content SEO practices, you can optimise your company's website to rank well in relation to a number of key and targeted keyword phrases.
This increases the exposure of your brand and relevant products online, creating significantly more leads and potentially higher sales conversion rates over time.
We'll explore this more a little later in the piece, but first it's important to see pull marketing in action.
One particularly effective pull marketing campaign commenced in 1996, when Tyco Toys created a sudden and unexpected pop culture obsession with its iconic 'Tickle Me Elmo' (the laughing Sesame Street muppet that sold in droves during the summer).
Having identified Elmo as their most popular character among the key target demographics, Tyco began to create content for press releases and promotional items and distributed this information among various outlets.
This, combined with hands-on presentations and demonstrations as targeted trade shows attended by the same demographics, helped to created huge buzz and demand for their product.
This strategy also 'pulled' target customers towards a particular product as a way of driving sales, rather than looking to build awareness around a range or introduce the item to new demographics.
When is Pull Marketing More Effective?
We've already touched on the core differences between push and pull marketing, especially in relation to when and how both tactics are primarily used.
But when exactly is pull marketing most effective? As Sesame Street's Elmo example proved, this technique works really well when you're trying to draw one or more target markets to a specific product, range, service or promotion.
Because of this, pull marketing and channels such as SEO and social media marketing are also widely used to generate a higher number of targeted leads and boost the sales conversion rates associated with individual campaigns.
Of course, it makes sense that pull marketing should be highly effective when looking to increase demand for products and services, as it can be built on existing datasets pertaining to customer purchasing habits and the channels that they use to research and buy products.
Ultimately, if you were to use push marketing techniques at the beginning of a campaign to help build awareness, you may be inclined to leverage pull marketing a little later on when you're looking to increase demand for particular products and optimise sales output.
However, there are also instances where individual push and pull marketing techniques can be combined at the same stage of the same campaign, in order to boost engagement and achieve a host of commercial objectives.
How to Use Pull Marketing with OOH
For example, there are various pull marketing techniques and channels that work particularly well with out-of-home (OOH) media and channels such as billboards.
OOH media would typically be considered to be a push marketing technique, as it strategically places products in front of customers and is ideal from the perspective of building awareness. Despite this, it's flexible and can be effectively combined with particular social media platforms, especially when driving promotions or looking to generate further interest in a product or brand.
Before we delve a little deeper into this, let's take a look at some of the supporting numbers.
According to data collected by Neilsen, not only has OOH begun to overtake television as the optimal way of building brand awareness in the digital age, but it has also emerged as a key driver of traffic through Instagram and Twitter.
For example, OOH media is responsible for 30% of all activations through Twitter, while this figure increases to 31% in the case of Instagram.
Conversely, the corresponding figures for television are 29% and 27% respectively, suggesting that OOH is now the dominant offline (and push) marketing medium for driving interaction through specific social channels.
There's also a cost consideration in play here, as while OOH has evolved to account for the largest number of activations through pull marketing channels such as Twitter and Instagram, it's also responsible for just 7% of the total offline advertising spend.
Given this demonstrable link between OOH and pull marketing, what are the best ways to use this strategy when advertising outdoors? Here are some ideas to keep in mind:
Focus on Mobile
A growing number of people across the globe now access social media channels through their smartphones, with a whopping of 85% of all mobile Internet users now active on networks such as Twitter and Instagram.
This is an important consideration, especially as people who see an OOH ad around 17% more likely to engage with the promoted brand on their mobile.
So, there's clearly value to creating mobile-first campaigns that leverage OOH media and actively look to drive traffic to targeted social channels, either with a view to driving online engagement or promoting a specific hashtag as part of an exclusive promotion.
Location is also key here, as you look to target customers (either on foot or the road) at a time when they're able to access their smartphone safely and most likely to engage with branded messaging.
Use Active and Focused Text
The type of content that you create will differ between push and pull marketing, depending on the precise objective that you're trying to achieve.
In general terms, pull marketing will require you to persuade customers to take a particular action or engage further with the brand, while seeking to inform and build awareness through push marketing channels.
OOH media is arguably ideal for this purpose, but there are a couple of rules to keep in mind.
Firstly, you should limit your text to no more than six or seven words in this case, focusing on text that's written in an active tense and designed to create a sense of urgency among customers.
It's also important that you list targeted and relevant contact information, depending on the precise nature of your campaign and the action desired of customers.
For example, you'll need to feature the necessary hashtag and social channel when driving an exclusive promotion, while ensuring that your brand's website address is displayed prominently when looking to draw your audience to a particular product or range.
Focus on Promotions and a Clear CTA
Ultimately, the aim of pull marketing is draw customers to your offerings, and this type of technique works best when you have a clearly defined campaign in mind from the beginning.
Certainly, if you're to successfully draw a target market to your products or services, you'll need to leverage OOH to provide a clear incentive to an audience.
This is why precise and limited-time promotional offers work particularly well through OOH, especially if you present it clearly and use an associated hashtag to encourage customers to participate in mind.
This also contributes to the development of a clear call-to-action (CTA), which is also pivotal when creating effective OOH campaigns that utilises pull marketing.
What are the Best Pull Marketing Campaigns in History?
To provide a little further context about the effectiveness of pull marketing, let's consider some of the best such campaigns through history. These prominently leveraged social media, so here's a sneak peek at our top three:
#1 KFC's 11 Herbs and Spices: Prior to October 2017, KFC unfollowed everyone on Twitter apart from six people called 'Herb' and the five Spice Girls. T
his was to create a significant buzz around their secret sauce that included 11 different herbs and spices (get it?), with a single associated Tweet triggering hundreds and thousands of shares and creating organic conversation around one of their central product offerings.
Playful and engaging in equal measure, this drew customers to the brand like moths to a flame!
#2 StraightOuttaCompton Movie Campaign: Given than pull marketing is designed to reel customers in, it makes sense that user interaction and engagement should be viable end goals.
Enter the #StraightOuttaCompton movie campaign in 2015, which used an optimised website that enabled users to create their own iconic memes featuring the standalone hashtag.
This create a huge following and more than 10.8 million website visits, while creating the number one trending topic on Twitter, Instagram and Facebook within 24 hours!
#3 Airbnb's 'We Are Here' Facebook Live Campaign: On a similar note, Airbnb also launched an interactive 'Experiences' campaign on their innovative Trips platform in 2016.
This allowed users to livestream and share their own experiences from the previous 24 hours, with footage filmed on helmet-mounted cameras that added an experiential element from a viewing perspective.
Credit: Scott Drey
Cue significant interest in Airbnb's various locations and the subtle cultivation in demand for fun, spontaneous and experience-based travel.
The Last Word – How to Develop a Pull Marketing Plan
When developing your wider pull marketing plan, timing is one of the most important considerations. There are two main reasons for this; firstly because this type of strategy requires tremendous knowledge and creative effort if it's to effectively engage target customers.
Secondly, pull marketing techniques are typically built on significant data, especially in terms of the behaviour of your target audience and how they interact with relevant channels such as social media, OOH and your branded website.
If you have those things in place, however, you can consider creating pull marketing campaigns for particular products or services.
It's also worth considering how you intend to combine push and pull marketing techniques within individual campaigns. The example of driving social media traffic through OOH media offers a relevant example, as does advertising a brand new product website through the medium of television.
Don't underestimate the impact that other channels, such as Paid Advertising, Social Media Marketing and SEO can play in your pull marketing campaign either, especially in terms of targeting customers in relation to relevant keywords and leveraging their search behaviour to connect them with key products.